The music ministry at Silver Creek Reformed Church allows for all ages to participate in making a joyful noise unto the Lord. There are numerous ways to get involved, and we are always looking for creative ways to enhance the worship experience. Current programs include the Senior Choir, the Hand Bell Choir, the Kidz Choir, the Praise Team, and special music services.
---
The Senior Choir
The Senior Choir consists of all ages from post high school on up. The choir sings twice per month from September through May. In addition, a couple of special music services are held each year. Practices are held at 7:00 p.m. on Wednesday evenings beginning in September each year. The Senior Choir is directed by Ellen Poppen. For more information, contact the Church Office at 815-362-2129.
---
Hand Bell Choir
The Silver Creek Hand Bell Choir has been in existence since 1992. All ages from high school through adults participate in this ensemble group. The Bell Choir provides special music once per month along with participating in any musical programs throughout the year. Practices are held at 11:15 a.m. on Sunday mornings from September through April. The Hand Bell Choir is directed by Beatrice Poppen. For more information, contact the Church Office at 815-362-2129.
---
Kidz Choir
Ages 3 through 3rd grade make up the Silver Creek Kidz Choir. This group shares the songs learned from the Sunday School Program at Silver Creek Church once a month from September through May. Their smiling faces and enthusiasm demonstrate the true joy they have in singing praises to the Lord.
---
Praise Team
We are led in Worship each Sunday morning by the Silver Creek Praise Team!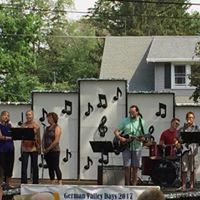 ---
Special Music Services
We at Silver Creek know that special worship services can create a memorable experience that can touch people in many different ways. We try to design musical programs that utilize the talents of all participants into a combined worship experience that ministers to all who listen. Special musical services are typically held at Christmas and Easter each year.