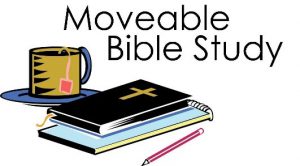 The Moveable Bible Study began around 2005. Two newer church members were leaving church one Sunday and thought about starting a new Bible Study. They were looking at doing something a little different. An idea was suggested to meet at someone's house each month. The host would also be the Leader for that night's Bible Study. Each month, the Bible Study would "Move" to another member's house. This permitted the group to get everyone involved.
They started with a sign-up sheet to see who may be interested. Initially, there were about 6 people involved. The Moveable Bible Study has grown and now has about 13 members.
When beginning this group, the former Pastor's wife had some ideas on material. The group has studied "Women of the Bible", and "Becoming a Woman of Simplicity" by Cynthia Heald. Another study that was quite popular was a series of studies entitled "Bad Girls of the Bible". "Free from Worry" from the Women of the Word Series was also a group favorite. Now, they discuss as a group the material to study. Volunteers are very welcome within the group to help pick out new material. They have found the type of study that works well includes a study book with Bible verses to review, along with stories and questions to discuss. After the meeting, there are snacks (dessert or treats).
More growth in the group is anticipated for the future. As the group grows, additional study offerings may become available. The Movable Bible Study meets monthly at 7:00 PM on the fourth Monday of each month. For more information, contact the church office at 815-362-2129.